Internet version [Naruhodo no Mori] Vol.18
by Yumiko Mori

---
Vol. 18 May 15th, 1996
Water Rocket
Home science experiments for mothers of elementary school children
---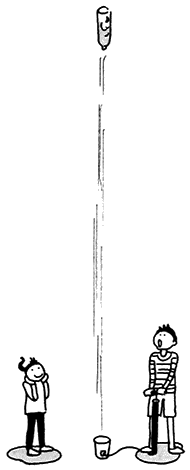 Toshi: "I really want to make a plastic bottle rocket."
Mom: "I heard plastic bottle rockets are very popular."
Toshi: "Mom, can you make it?"
Mom: "Well, you should make your own research."

But eventually Mom helped Toshi. She bought various parts necessary for this experiment.
Mom: "The principle why this rocket can fly is not so difficult to understand."
Toshi: "How far does this rocket fly? I wonder."
Mom: "I heard this could fly 20 m high."

We made a rocket from scrap.
On a national holiday, our whole family went to a community park.
Tae: "I am putting air in!"
Tae started to pump air in, but soon the pumped air started to leak.
Tae: "Oh, No! What happened? I'm completely soaked!"
Mom: (laughing) "Oh! This is complete failure!"
Tae: "Mom, stop laughing and give me a towel now!"
Mom: "I'm sorry. I am sorry. But it's funny."

We made a quick remodeling to fix the problem.
Mom: "I hope it will work this time."
Toshi: "I am going to start. OK?"
Toshi started pumping and then the rocket started lifted up.
Mom: "Oh, Yes! Flying!"
Toshi: "What happened? I couldn't see. How far did it fly?"
Dad: "It went quite far. Maybe 10 meter."
Mom: "Great! It was a great success! "
Toshi: "It's pity I couldn't see my rocket flying."

On the way back home, we saw a family carrying a beautiful commercially made rocket.
Toshi: "Actually I really wanted that fancy one."
---
Materials
A plastic soda bottle

A bike air pump

A plastic tube 1m long
(For example, tubes used for fish tank)

A rubber cushion with a small hole
(smaller than 23 mm in diameter, most likely available in hardware shops)

A bicycle valve set
(See the figure. A valve, a rubber tube, and a stop screw. Probably you can find them at a bike shop.)

Thread

Gauze (5 cm wide 20 cm long)
(Use this only when the rubber cushion is loose.)

A big paper cup ( Similar to those used at fast food restaurants)

A towel


How to make a water rocket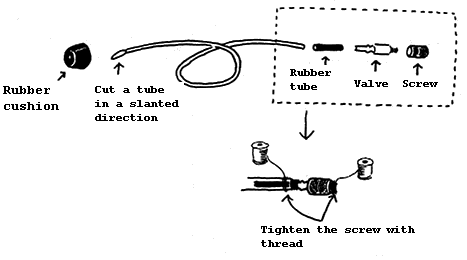 30 min if all the materials are already collected
Thread a plastic tube through the hole of the rubber cushion.

Cover the narrow end of the valve with the rubber tube.

Push the valve into the other end of the plastic tube.
Fasten the valve with thread.

Put a valve stop screw.
(See the figure.)
You can not pump air in yet, since the screw is not really fixed enough.
The screw should be fastened tightly with thread.

Make a launching pad from a paper cup.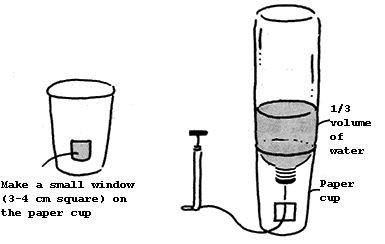 How to play with a water rocket
Required time: 1 hour
Better to do on a wide open area. If water is not available there, you bring your own water.

Put water into the bottle (about one third of the bottle volume).

Push the rubber cushion deep into the plastic bottle.


If the rubber cushion is loose, wrap the cap with a piece of gauze and push it in.

Put the plastic tube through the window of the launching pad.

You place your water rocket on the launching pad.

Pump air slowly by the air pump.

If you see bubbles coming out from water, that means you successfully pumping air in.
Before launch, make sure no one is around.
If not, your rocket may hit someone. Worse he/she will get wet.
Especially be very cautious on a windy day, since your rocket can be carried away by wind easily.

The reason why a water rocket fly is that, first, the water is rapidly ejected due to the compressed air and that the rocket is pushed upward by the reaction of the ejected water.

In Japan, commercially manufactured bottle rockets have become very popular. They can fly as far as 100 meters.

---

Outdoor Experiment

How about doing an experiment outside when weather is nice? When we were pumping air into our rocket in a park, people, who happened to be there, were very curious on what we were doing. I could have asked them to join in our rocket experiment. We do most of science experiments indoor. This was a nice change.

---

| | |
| --- | --- |
| Author | Yumiko Mori (Zushi, Kanagawa, Japan) |
| Illustration | Mitsue Ogata |
| Translator | Akira Ishihara |
| HTML format | Muneo Kume |

---

Copyright © 1996 Rika no Heya & Yumiko Mori

---